dslrBooth Pro Photobooth Software (Free updates for 1 year)
The dslrBooth Pro Photobooth software is a powerful, user-friendly and will allow you to deploy a photobooth quick and easy. Simply hook up your camera to your pc, run the software, then hookup your printer to your pc. dslrBooth Pro software downloads pictures directly from the camera, assembles several pictures into a print, adds your branding to it then prints it automatically.
• Green Screen Chroma Key capability
• Built In Template Creator with included built in Templates
• Supports 4×6, 4×8, 5×7, 6×8, 8×10 print and layout output.
• Compatible with most popular Digital SLR Cameras
• Share images online to social media sites
• Live View functionality
Plenty of pre-made template options. dslrBooth Professional Edition adds ability to create custom templates. These are some samples. View all of them in the free trial version!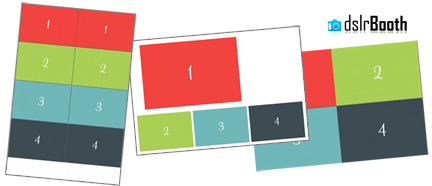 For a list of supported Cameras and for full information on this product click >here<
These selected Printer and dslrBooth Software bundles make it easy to get started in the Photo Booth business. The Dye Sublimation printers feature fast printing speeds and high capacity output. The variety provided will ensure that you can find the perfect photo booth or event printer setup that is right for you, they cover the range from the light and portable to stackable.

—————————————————-
FAQ – Frequently Asked Questions:
Is my camera supported?
Most Canon and Nikon DSLR cameras from the last 3 years are supported. Check out this list.
Do you have live view? Can I see myself before taking the picture?
Yes, this feature is available in dslrBooth Pro Edition for Windows.
Why does my camera stops working after leaving my photo booth for a few minutes?
Your camera is set to go to sleep to conserve battery life. Turn off that setting in your camera.
Can I use a button or a foot switch to start capturing images?
Yes, This is only applicable for Canon and Nikon cameras.
I'm having focus issues, it takes too long to focus
For Nikon cameras, put camera in AF-S mode and Auto Area AF (Large rectangle).
For Canon cameras, put camera in One Shot AF and Automatic AF Point Selection (Default Mode).
Printing:
Do I have to print my images?
No. You can set automatic printing to off in the preferences. After, if there's an image that you want to print, on windows, click CTRL-P  or the print icon.
Will printer XYZ work?
Yes. dslrBooth software supports all photo printers. We recommend you use a dye sub printer as you'll get much better prints worthy of your photo booth.
Can I print in black/white or sepia?
Yes, if your printer supports it. Set this up in Print Settings.
What size paper do I need?
Professional Edition:(Only available for Windows) Add ability to create your own templates and other paper sizes: 4×8, 5×7, 6×8, 8×10.
Operating System Support:
Windows 8 (recommended), Windows 7, Windows Vista* & Windows XP*
FotoClub is an authorized dealer of professional digital photo printing and professional instant printing solutions from all the major brands like Epson, HiTi, DNP, Noritsu, Kodak, Sony, Mitsubishi and more. We can help you find the right photo printing equipment and supplies for any application including photo booth printers, photo kiosks, large format inkjet printers and portable event printers. 1(888)921-3686