RE-POSTED for UPDATE: The latest P510 series printer driver can disable the  330 print
"cleaning message "  ( no pop-up clean message )
It is recommend that after installing latest driver to upgrade to latest firmware as well.
 Driver and firmware can be downloaded from here:
http://download.hiti.com/index.asp?MLang=English
——–
If you own a HiTi P510 Series Photo Printer you may have noticed that there is a Cleaning Message that is displayed every 330 prints. HiTi's has a software to permanently reset the message. You can not turn it off, however, you can now set this message to be greatly delayed from 500 to up to 10,000 prints!
…
Compatible Hiti Printers for this:
HiTi P510L, HiTi P510S, HiTi P510si, HiTi P510K
Follow these directions:
You can Download the software from us here:
http://www.fotoclubinc.com/OTHER/Downloads/P510_SetCleanMsg.zip
1) Connect P510 series printer to computer.
2) Power up (turn on) your P510 series Printer
3) Extract zipped file. Run the software (SetCleanMsg.exe)
4) Select the amount of prints prints (this sets the reminder notice) … click "Apply".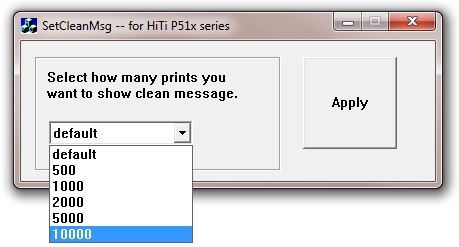 If you do need to clean your printer, here is a link to a video that will show you how. How to Clean the HiTi P510S Photo Printer for MAC: http://youtu.be/uR8lrTuF7dE
FotoClub is an authorized dealer of professional digital photo printing and professional instant printing solutions from all the major brands like Epson, HiTi, DNP, Noritsu, Kodak, Sony, Mitsubishi and more. We can help you find the right photo printing equipment and supplies for any application including photo booth printers, photo kiosks, large format inkjet printers and portable event printers. 1(888)921-3686