FOTO CLUB and DNP SPECIAL WARRANTY PROMOTION. (NOW EXTENDED!):
With any new DNP  DS40, DS80, and RX1 photo printer purchase before March 25, 2015, you can receive a DNP 3-year Advance Exchange (AE) Service Contract at no charge. Yes, you heard right, FREE! That's a $399.99 retail value! You have until March 31, 2015 to return the promotional form to DNP.

(A-Stock Only. Pre-owned are excluded) Please contact your Foto Club sales rep with any questions. 1(888) 921-3686
---
 Advance Exchange (AE) Service Contract Warranties for our most popular stand-alone photo printer: | DS40 Printer | DS80 Printer | RX1 Printer | A DNP 3-year Advance Exchange contract helps to maximize the customer's up-time during peak usage periods, protecting their revenue streams generated from photo sales.
Compared to the competition, this Service Contract that DNP offers is MORE THAN TWO TIMES THE THERMAL PRINT HEAD COVERAGE at a very affordable price. "Hot Swap" units guaranteed to ship via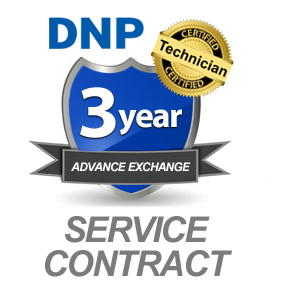 2-day service — and all repairs are made with Genuine DNP parts by factory-trained and certified technicians.
In short, with this AE Service contract DNP will send you out a "swap printer" via 2 day service and covering the freight.
"So there is less downtime and a greater print head coverage on this warranty."
When purchasing a 3-Year AE Service Contract, the thermal print head warranty limits are extended to more than twice the standard manufacturer's warranty.
Follow the links below to read or for full details:
You can read more on the DNP Advanced Exchange Service Contract by >clicking here<.
FotoClub is an authorized dealer of professional digital photo printing and professional instant printing solutions from all the major brands like Epson, HiTi, DNP, Noritsu, Kodak, Sony, Mitsubishi and more. We can help you find the right photo printing equipment and supplies for any application including photo booth printers, photo kiosks, large format inkjet printers and portable event printers. 1(888)921-3686