---
CamRanger™, one of the most popular camera control tools for professional photographers, has added support for wireless printing with DNP's WPS-1 Wireless Print Server. The integration now provides users of CamRanger's wireless camera control system with the ability to print to most DNP photo printers via the WPS-1 server-creating a complete wireless end-to-end solution for photographers.
The CamRanger is a compact stand-alone device that connects directly to Canon and Nikon digital SLR cameras via a USB cable. The device creates an ad-hoc Wi-Fi network that tablets, smartphones, and Mac and Windows PCs can use to connect to the camera. A downloadable CamRanger app enables wireless control of the camera, including live view, image capture and view, editable camera settings, movie recording, time-lapse, macro photography and now, direct printing of images.
"As wireless printing continues to become an important part of the modern photographer's workflow, we plan to integrate the WPS-1 with many of the third party products that our customers deploy on a daily basis,"said Katsuyuki Oshima, president of DNP Imagingcomm America Corporation. "CamRanger has an incredible technology with a global user base that we are proud to work with."
… Read more info [here]
---
Simple Booth App Provides Support for Instant Printing with DNP's WPS-1 Wireless Print Server
Underscoring its commitment to providing the most comprehensive wireless printing solutions for the professional photography market, DNP Imagingcomm America Corporation's Photo Imaging Division today announced its WPS-1 Wireless Print Server is now supported by
Simple Booth photo booth apps. The compatibility provides Simple Booth users with the ability to wirelessly print photos taken via Simple Booth's iPad workflow to most DNP dye-sublimation printers.
"We recognize photographers are increasingly relying on mobile devices for their on-site workflows," said Katsuyuki Oshima, president of DNP Imagingcomm America Corporation. "Simple Booth has an innovative solution and a strong user base that we are looking forward to working with."
Devoted to developing user-friendly photo booth solutions for professional and semi-professional photographers, Simple Booth provides mobile apps that transform Apple tablets into professional-grade photo booths. The software uses an iPad to replace DSLRs, touch screens, and computers for a more streamlined and efficient on-site photo booth workflow.
Click here to read more.
---
You can order the DNP WPS-1 from Foto Club here: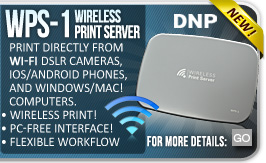 Supports these DNP printers:  DS620A, DS40, DS80, RX1
FotoClub is an authorized dealer of professional digital photo printing and professional instant printing solutions from all the major brands like Epson, HiTi, DNP, Noritsu, Kodak, Sony, Mitsubishi and more. We can help you find the right photo printing equipment and supplies for any application including photo booth printers, photo kiosks, large format inkjet printers and portable event printers. 1(888)921-3686