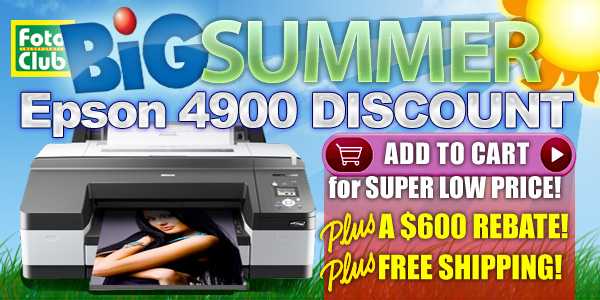 Easy to Use | Low Ink Consumption | Epson USA Warranty

Gear up on EPSON Stylus Pro 4900's

SUMMER DISCOUNTS for FALL PORTRAITS!
"How do I get this Discount?"'
Add to Cart' today so you can receive that
'Too Low to Advertise' PRICE
You also get a $600 Rebate by Mail
plus FREE SHIPPING (REBATE EXPIRES JULY 31)

REBATE HAS EXPIRED. Please call us for latest rebates. 1-888-921-3686
With the Epson 4900 you save half the amount you would spend at a pro lab to print your high demand portraits or any other application that requires high quality printing, such as art prints, design or proofs. Of our selection of Epson printers, the Epson 4900 printer is one that provides complete control over color and density, and can use sheet or roll media up to 17″ wide.
Using Epson UltraChrome inks and the full range of Epson Paper available, the Epson 4900 printer can produce high quality professional prints that will last.
Accepts Media up to 17″ / 432mm Wide
UltraChrome HDR Ink Technology – 10 Inks
Wide Color Gamut-PreciseColor Technology
Automatic Black Ink Cartridge Switching
High Performance Print Engine Speeds
Easy-to-Use Front Control Panels
Maximum Resolution – 2880 x 1440 dpi
Three-Level Black Ink Technology
Wired Ethernet Networking
Accepts Sheet & Roll Media
Includes:
Epson Stylus Pro 4900 Inkjet Printer
Power Cord
Cord Hook
10 x 80 ml Ink Cartridges
Starter Set
Ink Maintenance Tank (installed)
Cutter Blade (installed)
Paper Tray
Roll Paper Spindle
Spindle Adapters
Software CD-ROM
Quick Reference Guide
User Guide
Epson Warranty

Click here for full list of
Epson 4900 Inks
FotoClub is an authorized dealer of professional digital photo printing and professional instant printing solutions from all the major brands like Epson, HiTi, DNP, Noritsu, Kodak, Sony, Mitsubishi and more. We can help you find the right photo printing equipment and supplies for any application including photo booth printers, photo kiosks, large format inkjet printers and portable event printers. 1(888)921-3686